Historic evidence has lead to the belief that nepotism exist in Hollywood…
If you are a fan of Hip Hop or Pop music, then you are familiar with the R&B group known as "Xscape". Are you familiar the members, name "Tiny" and "Kandi"?
Well, it is a known fact that Tiny and Kandi grew up together!
I stumbled upon the webpage of Tiny's daughter and Kandi's daughter (I think)! They are working their way into the music industry. Tiny's daughter is Zonnique and Kandi's daughter name is Jazz! I am not sure if "Jazz" is Kandi's daughter but, they look alike and here is her official page on
MySpace
. Are they merely mimicking the patterns from their upbringings?
For years, it has been heavily speculated throughout the industry that Ms. Tameka "tiny" Cottle is Teena Marie's biological daughter. Teena Marie's biological name is Mary Christine Brockert (not Cottle). It is also a known fact that Teena Marie (Mary Christine Brockert) has birthed her relative's children, so that they can share her vocal talent. If you look closely at
Alia Rose
(Teena's publically announced daughter), she is the splot image of Teena's nephew Eian. Did Teena birth Eian's daughter, and together they named her Alia Rose? It was onced whispered throughout the gossip tunnel, that when Tameka "Tiny" Cottle was born, she was passed along to be raised by Teena Marie's biological mother Ms. Pope-Cottle (not Brockert?). Look at Alia Rose (Teena Marie's daughter) and Zonnique (Tameka's daughter). The resemblance is extremely mysterious.
Question?
Did Tina Knowles raise Tina Turner's daughter, Beyonce? Is
Ronnie Turner
,Matthew Knowles biological son or brother? Is Audrey Turner, Tina Knowles (or Tina Turner's) biological daughter? It was once noted that Adury Madison dated Ike Turner
(source).
To date, Audry Madison is currently performing under the stage name
"Audrey Turner"
.
Are these families having sex with each other, to ensure that their "talents" remain in their family?
Are these patterns being mimic by the "Destiny Child" members, as they inched their way into the entertainment arena? I understand that most of these children were, "homeschooled". Instead of going "to school", they traveled school to school; to showcase their talent.
As a program of industry studies, these celebrity kids indulged in spending 40 nights in a hotel, these experiences were called the "Kid Nation" assignment. Kid Nation was a social reality amongst celebrities, which later turned into a Television Show. This show was later cancelled due to the exposure of too many celebrity kids.
"Jazz"
was actually a member on the "Kid Nation" show and I wonder if Zonnique was a part of it, as well. Zonnique and Jazz also stared in Lil' Wayne's Video,
"My Leather So Soft"
. They were dressed in ballerina get-ups. Have you read the lyric to this song? They are too adult for children.
I never understood why these kids choosen to perform on the same stage, with an older women (who was dressed half naked).
...I guess it's all about the money, huh?
I was wondering, if there was a link between Jay-Z opening a 40/40 "adult" rated club (in select cities)?
Live Nation?
Kid Nation?
To follow the career of children featured on "Kid Nation", click on this
website
. Some of these children are now being featured on T.I.'s Redemption show (as thugs).
Are we really paying attention or have we become obsessed with these artist, as they birth "talented kids"?
These celebrities are swinging around with their own relatives! This is an unlawful act, and it's called, "INCEST"!
I am just sayin...
There are more rumors circulating around the internet, that link Ike Turner to Jay-Z and Beyonce to Tina Turner. It also link Beyonce to Nivea, as her biological mother.
Question: Is Nivea related to Raven Simone or how about Tisha Campbell or Lisa Raye?
Are these ladies directly related to James Etta Hawkins?
Did anyone investigate Ike Turner for incest?
Is anyone paying attention?
There's also a rumor circulating that James Etta Hawkins is Tina Knowles Biological Mother. If so, this identifies James Etta Hawkins as Tina Turner's biological mother. Has anyone traced James Etta Hawkins family tree? I am sure they ran into many stumbling blocks filled with less data and lies? It amazes me that she's over 70years ago and not one exist! Are these celebrities getting surgery to hide the identities of incest? At any rate, it doesn't matter how many times you cut Tina Knowles, Tina Turner or James Etta's face…You can't alter their genes!
In the 1950's, it was heavily speculated that Tina Turner was dating one of her relatives. This relative was whispered around as "Luster", the guy who had "lust" for his cousins. It was later revealed that Mr. Lust was actually Izear Luster Turner. To escape these rumors, Mr. Izear changed his stage name to "Ike Turner" and his biological name wasn't mentioned until his demise.
Also, Jay-Z has a son name "Isa Jael". Is he paying respect to his biological father, by naming his son "Isa"? Will Isa become his stage name 20 years from now or "Izear"?
Are you paying attention?
Are these families involved in incestuous relationships, to birth the next generation of talented kids?
Beyonce and Jay-Z, are picking up where Tina and Ike left off. They are glamorizing incest!
If you are seeking a visual, i have posted a few picture comparisons below, for your review:
TINA TURNER AND THE KNOWLES ARE THEY RELATED?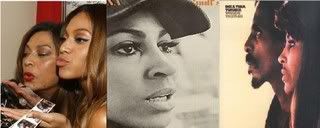 TINA TURNER AND THE KNOWLES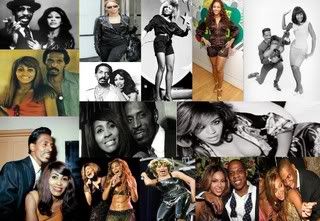 JAY-Z AND HIS BIOLOGICAL FATHER IKE TURNER
JAY Z/BEYONCE AND IKE/TINA TURNER
TINA KNOWLES AND JAMESETTA HAWKINS
HAWKINS AND KNOWLES FAMILY MEMBERS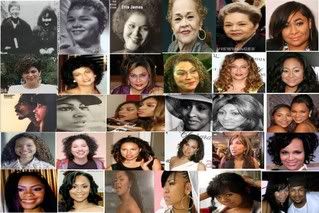 TINY "TAMEKA" COTTLE AND TEENA MARIE