"The
man
in the photo above is none other than Ziggy Stardust, the iconic and thoroughly androgynous rock and roll persona created by David Bowie back in 1972 (a year in which some worshiped polyester as a deity). Bowie's Stardust has been on my mind in recent days because one of the song's that he/she sang most frequently was "Changes" (from the 1972 Bowie album "Hunky Dory"). I find myself singing the chorus of that song even as I type these words:
Ch-ch-ch-ch-changes
Turn and face the strain.
Ch-ch-changes.
Gonna' have to be a different man.
Time may change me, but I can't trace time."
"I don't know what the audience was expecting when they paid the $5.50 ticket price to see him. How could you react to this
androgynous
orange haired being, slim as a rail, dressed in multi-colored tights, blowing away all your preconceived macho notions of what a rock star and rock show were supposed to be? And Bowie does just that. At the top of his game, this is a stunningly powerful performance of passionate rock. Just listening to it makes me want to get out my old leotards (don't ask) and an orange wig to paste over my shiny pate."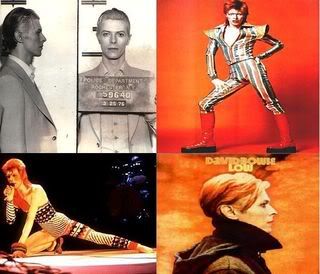 Lyrics to Changes :
(Bowie)
I still don't know what I was waiting for
And my time was running wild
A million dead-end streets
Every time I thought I'd got it made
It seemed the taste
was not so sweet
So I turned myself to face me
But I've never caught a glimpse
Of how the others must see the faker
I'm much too fast to take that test
I watch the ripples change their size
But never leave the stream
Of warm impermanence and
So the days float through my eyes
But still the days seem the same
And these children that you spit on
As they try to change their worlds
Are immune to your consultations
They're quite aware
of what they're going through
Strange fascination, fascinating me
Changes are taking the pace
I'm going through
********************************************************************************
They say, "You marry your own kind"...I wonder what happened to Iman's Adam apple; in 1975? It comes smaller in hermaphrodites! Once again, the world witnessed Iman as her gender was slowly re-assigned.
Wikipedia
has stated that Iman a
Mononymous
person. A mononymous person is an individual who is known by a mononym, or "single name". In some cases, that name has been selected by the individual, who may have originally been given a polynym ("multiple name"); in other cases, it has been determined by the custom of the country or by some interested segment of the public.
IMAN was birthed through an incestuous relationship. She was given two names, just in case she decide to become a man.